In an attempt to bring order to this blog i've decided that I shall introduce you to some of the artists I admire, objects I lust over and plain old interesting things I come across, in an alphabetical guide to 'things I think are great'.

I have so many really talented friends and acquaintances that I think the whole world should admire, and many of them are terrible at promoting themselves and their work, so i've decided to do it for them, whether they like it or not! If you have any suggestions for artists and makers to include later on in the alphabet then please let me know, in the meantime I shall start off with:




A is for

Alys Paterson*

all images copyright Alys Paterson
I admit, i'm biased,
Alys Paterson
is a friend of mine who designed artwork for
my website
, feeds me pancakes on a regular basis and is super cute too. But it's not just me who thinks her work is good,
Habitat
have been stocking her work, and her exhibition at
the gallery
was an almost total sell out show.
A is for
Alika Cooper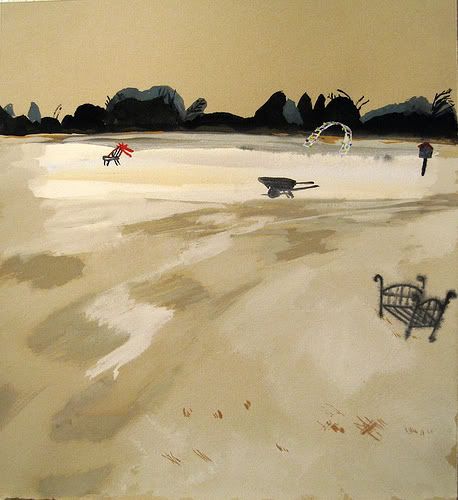 all images copyright Alika Cooper


Alika Cooper came and showed at the gallery back in the very early days, along with Marci Washington, Kelly Lynn Jones, and Deth P Sun. Alika, Marci and Deth actually made the journey over from California to Bristol for the show, and I hope they weren't too suprised to end up spending a few days staying with me in my house by the seaside. At the time Alika was obsessed with dogs, but now she has moved on to being obsessed with old movie stars and caravans. I really really love the colour palete Alika uses and the way her landscapes make me feel so cold. Alika has a blog as well as her website and sells lovely items via Little Paper Planes (which also has an interview) And if you live near San Francisco you can pop in and see her studio as part of the Mission Art Walk, which takes place this weekend.
A is for Allyson Mitchell
Allyson Mitchell is a total inspiration- everytime I check out her website there's something new that she's done that makes me go 'oooh'. I love her for the fact that she co-founded
'Pretty Porky and Pissed Off'
, I love her for the fact that she is making work asking the question
'why has no-one seen a lady sasquatch?
' and I love her for the fact that she is using craft techniques to do things like fill a whole room with granny squares and make rugs featuring 'glamour girls'. Allyson showed as part of
Stitch or Swallow
at the gallery, in the show that remains my all time number one (possibly because it was one of the first, before I got super stressed out by it all)
A is also for:
Aganetha Dyck
Aaron Sewards
and whoever else I can pick out of my terrible 'filing' system.
Ok, so next time it'll be all about the B's...


*you notice that this is alphabetical in as far as if I know someone by their first name, second name or business name.